Complete guide to Tattooing
3 Certificates and Comprehensive Training
Welcome to Skinart Tattoo Training Courses – See some of our students
We have been training tattoo artists for 16 years, during that time we have trained close too 300 artist and have helped student open more that 20 proper tattoo studios in shopping centers. Some of our students have won dozens of awards and we are proud that we started them on their amazing careers.
We offer the following , fully comprehensive courses:
Tattoo and piercing – 5 Days

Tattoo Only – 5 Days

Piercing Only – 1 Day

Permanent Make-up and Tattoo Only – 5 Days

Permanent Make-up , Tattoo and piercing course – 5 Days
We also offer additional modules









Tattoo Training Courses – Introduction to Tattooing Video
SKINART Tattoo Training Courses
During our 5 day tattoo training courses we complete 3 or 4 practice tattoos on practice skins, here is an example of some of our students work. These were done in our Durban training center.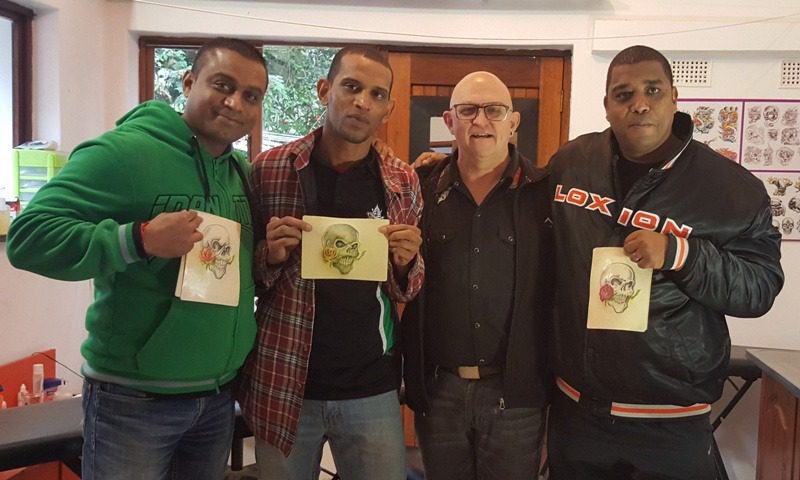 We provide you with 3 Certificates.
We offer a unique 36 step tattoo training program developed in our studios in South Africa.
For Full detail about our 5 day tattoo training course
We are often asked how we can possibly provide a complete tattoo training course in just 5 days, well we have been doing it for 15 years, we have trained doctors, lawyers, nurses, renown artists, circus performers, jewelry designers, graphic designers, models, male strippers, computer salesmen, bikers, professional wrestlers and even famous comedians.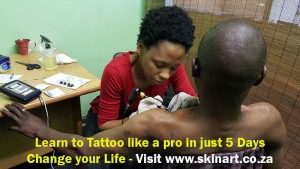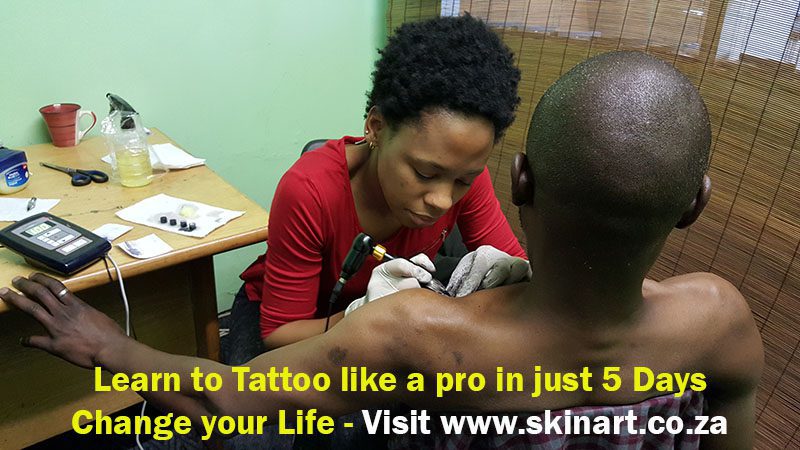 This student was being trained to use a HAWK tattoo machine on a customer in Benoni city center. We have now moved to a new much more relaxed training venue.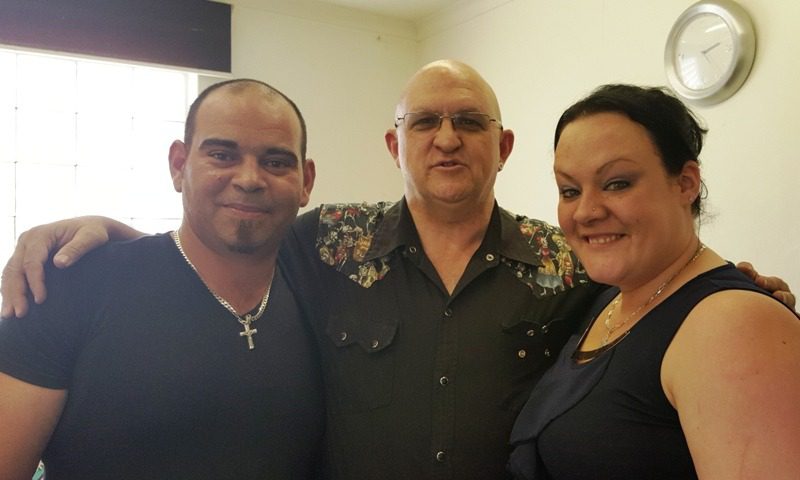 These Artist have since opened their own tattoo shop at the Hoedjiesbaai Hotel in Saldanha, western Cape. Well Done Guys!!!!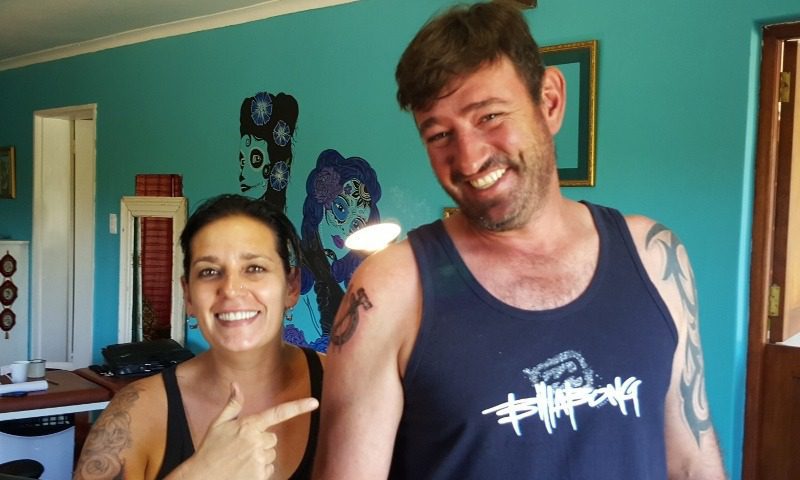 After our tattoo training course Tanya opened her own tattoo studio called the Tipsy Gypsy.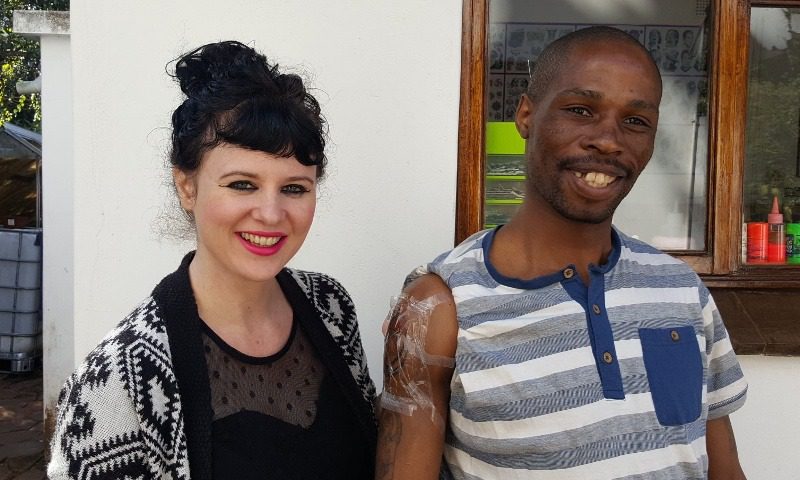 After the course this amazing artist went on to open her own tattoo studio called Bokkies Creations.
We have trained student that have opened studios all over South Africa, United Kingdom, Angola, Lesotho, Swaziland, Namibia and others. So whether you want to open your own business or just earn extra money or explore your creative side with a new art form our course is for you.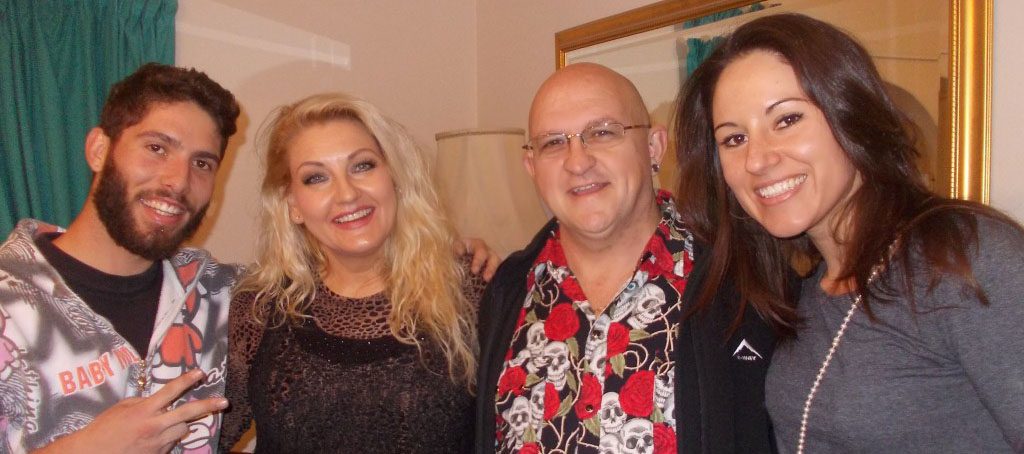 For 15 years we have been training Students who have opened their own businesses all over the world.
Our Course is not just how to tattoo but how to run a successful tattoo studio, others claim to do the same but we can assure you their is no other course like ours. Our Master tattoo Trainer is a legend in South Africa and has trained students from all over the world.

Our Unique 36 Step Training Program
We developed our own unique tattoo training courses from the necessity to train a young art student into a competent tattooer in the shortest amount of time. At that time the only available training method was a 3 year apprenticeship that involved thousands of hours just shop minding, cleaning and making coffee.
Also many tattoo artists and even the shop owners had learnt many bad habits and students are taught the wrong things.
We organised all the technical skills into a 36 modules of intense study, as tattooing is more than just having knowledge about how to do the tattoos but more importantly training the hands, eyes and feet to do the process smoothly and efficiently.
Once the technical aspects are understood and the practical aspects of being a technically proficient tattoo artist are mastered it is then time for the artistic element of the tattoo to be studied.
We have developed a 5 day training program that includes all these into an easy to learn program divided into 33 basic steps.

Thank you for visiting our website,
you can contact us via e-mail by clicking on the Link below.
Phone Us Now
or
Learn to tattoo from the professionals, we will improve your drawing skills, learn tattoo from our professional tattoo artists. Our Trainer has traveled extensively and will share the secrets of Tattooing with you.
Tattoo Training in East London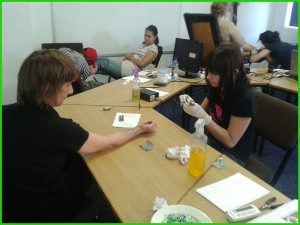 We Train in Tattoo Studios / Homes and Hotel Conference Facilities
The picture above are some students being trained in East London, It was one of the best facilities we have had from a hotel, our students tattooed many of the staff and they can't wait for us to come back again.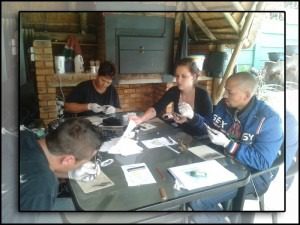 Tattoo Training Course in Edenglen, Johannesburg / Gauteng, South Africa – January 2014
Secret Weapon is in action : - next date is 2017-08-17 21:13:00 and the time now is 2017-08-17 21:02:20...
Breaking Internetional News: 2017-08-17 09:32:53
Trump defiant after Charlottesville outburst, lawmakers weigh price of loyalty

Looking at video captured in Charlottesville, Virginia, we can better understand the events that unfolded over the weekend.

Ex-Bush Presidents denounce racism

Former Presidents George H.W. Bush and George W. Bush released a joint statement Wednesday denouncing racism in the wake of the violence in Charlottesville, Virginia.

ACLU takes heat for its defense of white supremacist group

Last weekend's deadly violence in Charlottesville, Virginia, has put the American Civil Liberties Union on the defensive for representing the white supremacists and generated furious debate over First Amendment speech rights.

Russia's media: serving people or power

Embattled White House chief strategist Steve Bannon declared in an interview published Wednesday that the US is at "economic war with China," promised aggressive trade actions against Beijing and said he is "fighting" other top White House aides "every day."

S. Korea's Moon pledges there will be 'no war on Korean peninsula'

South Korean President Moon Jae-in has said US and South Korean policies are aligned on North Korea and promised there "will be no war on the Korean peninsula ever again."

Hong Kong activists face possible jail time

One of Hong Kong's most famous pro-democracy protesters could face years in jail, as a court reviews a case Thursday critics say is politically motivated.

Nearly 300 bodies recovered from Sierra Leone mudslide

Rescuers have recovered nearly 300 bodies following Monday's deadly mudslide on the outskirts of Sierra Leone's capital, the country's tourism minister said Wednesday.

Tourists couldn't care less about N. Korea's threats

Sequestered on a two-day holiday with her husband Jared Kushner in Vermont, Ivanka Trump, President Donald Trump's eldest daughter -- one of his senior advisers and the closest member of his family who is Jewish -- has yet to comment on the events of her father's Tuesday afternoon press conference.

Grace Mugabe asks for diplomatic immunity over alleged assault

Zimbabwe's first lady Grace Mugabe is seeking diplomatic immunity over allegations of assault in South Africa.

Britain's new aircraft carrier arrives at home port

Britain's largest aircraft carrier, HMS Queen Elizabeth, arrived at its home port in Portsmouth on Wednesday making its first public appearance.

Trump: 'Kim made wise decision' on missile threat

US President Donald Trump praised North Korean leader Kim Jong Un on Wednesday for appearing to back down on his threat to launch missiles toward the US territory of Guam.

32 killed in bloody night for Duterte's war on drugs

Thirty-two suspected drug dealers were killed in shootouts across one province in the Philippines on Tuesday, police said, in a bloody 24 hours for the country's war on drugs.

DJ in Taylor Swift case maintains his innocence

For six days inside of a downtown Denver courtroom, David Mueller sat facing the jury of eight people that would ultimately rule that he assaulted and battered one of the biggest names in music: Taylor Swift.

North Korea gives US a clear choice: Restraint or missile launches

US President Donald Trump implied in one of his latest tweets that he forced North Korea to back down over its threat to Guam. It's a dangerous misperception that could cause the crisis to escalate and Trump to miss what could be the best chance he will have to halt the tests of missiles that can now threaten the American homeland.

New satellite photos may give clues to MH370 crash location

Newly-discovered satellite photos may have given scientists a fresh clue as to the location of Malaysian Airlines 370, one of the world's most famous aviation mysteries.

Confederate memorials that will be removed after Charlottesville

More than 150 years after the Civil War ended, the Confederacy is memorialized with statues, monuments and historical markers across the United States.

Hazard 'has capacity to win' Ballon d'Or

If Eden Hazard is to win the Ballon d'Or the Chelsea player probably needs to start scoring more goals, says his Belgian international teammate Radja Nainggolan.

Daniel Craig confirms return as James Bond

"Welcome to Bali! Do you have any plastic bags to declare?"

Would you live here?

Why aren't more of us choosing to holiday in plastic cabins?

Highest outdoor whisky bar

Does whisky taste better at higher altitudes?
Summary

Service Type
Provider Name
Skinart Tattoo Training Courses
,
Area
Capetown, Durban, Gauteng
Description
Skinart Tattoo Training provides specialised tattoo training to allow student to enter the tatttoo industry from a complete beginner.