Complete guide to Tattooing
3 Certificates and Comprehensive Training
Welcome to Skinart Tattoo Training Courses – See some of our students
We have been training tattoo artists for 16 years, during that time we have trained close too 300 artist and have helped student open more that 20 proper tattoo studios in shopping centers. Some of our students have won dozens of awards and we are proud that we started them on their amazing careers.
We offer the following , fully comprehensive courses:
Tattoo and piercing – 5 Days

Tattoo Only – 5 Days

Piercing Only – 1 Day

Permanent Make-up and Tattoo Only – 5 Days

Permanent Make-up , Tattoo and piercing course – 5 Days
We also offer additional modules









Tattoo Training Courses – Introduction to Tattooing Video
SKINART Tattoo Training Courses
During our 5 day tattoo training courses we complete 3 or 4 practice tattoos on practice skins, here is an example of some of our students work. These were done in our Durban training center.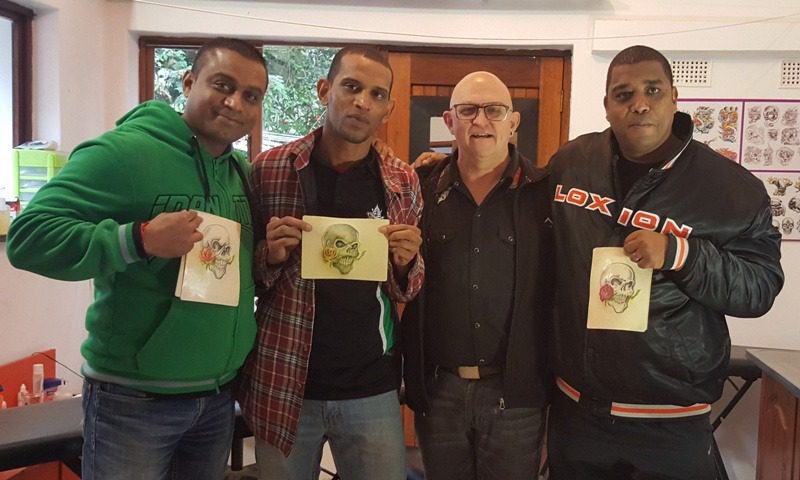 We provide you with 3 Certificates.
We offer a unique 36 step tattoo training program developed in our studios in South Africa.
For Full detail about our 5 day tattoo training course
We are often asked how we can possibly provide a complete tattoo training course in just 5 days, well we have been doing it for 15 years, we have trained doctors, lawyers, nurses, renown artists, circus performers, jewelry designers, graphic designers, models, male strippers, computer salesmen, bikers, professional wrestlers and even famous comedians.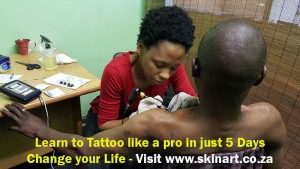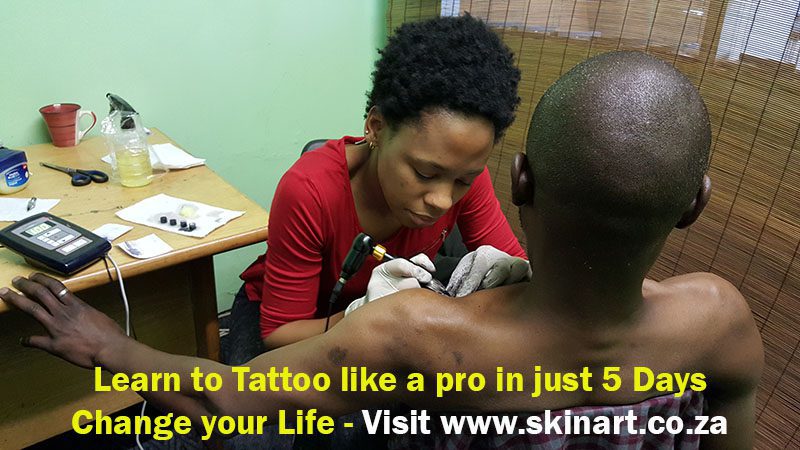 This student was being trained to use a HAWK tattoo machine on a customer in Benoni city center. We have now moved to a new much more relaxed training venue.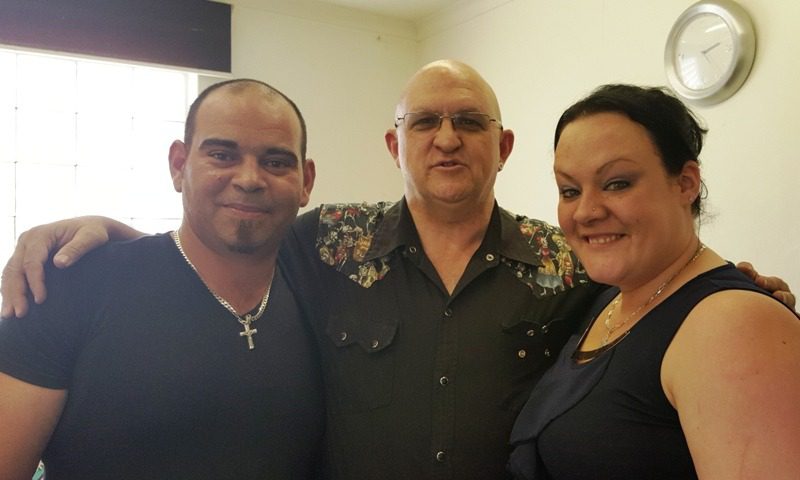 These Artist have since opened their own tattoo shop at the Hoedjiesbaai Hotel in Saldanha, western Cape. Well Done Guys!!!!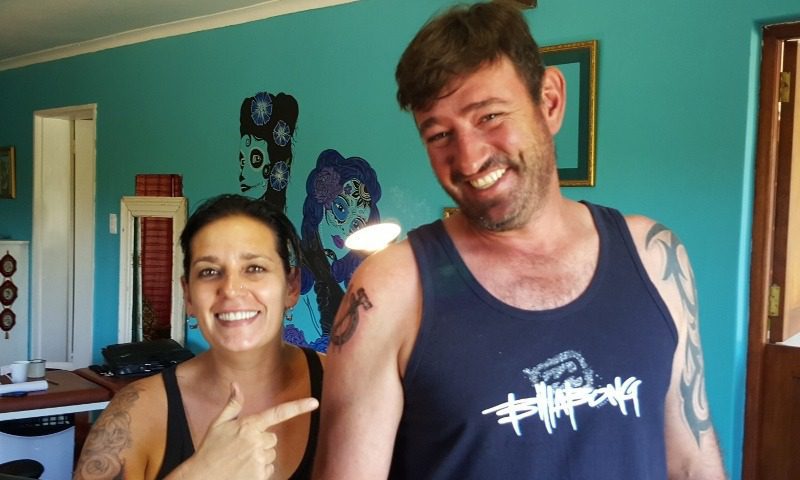 After our tattoo training course Tanya opened her own tattoo studio called the Tipsy Gypsy.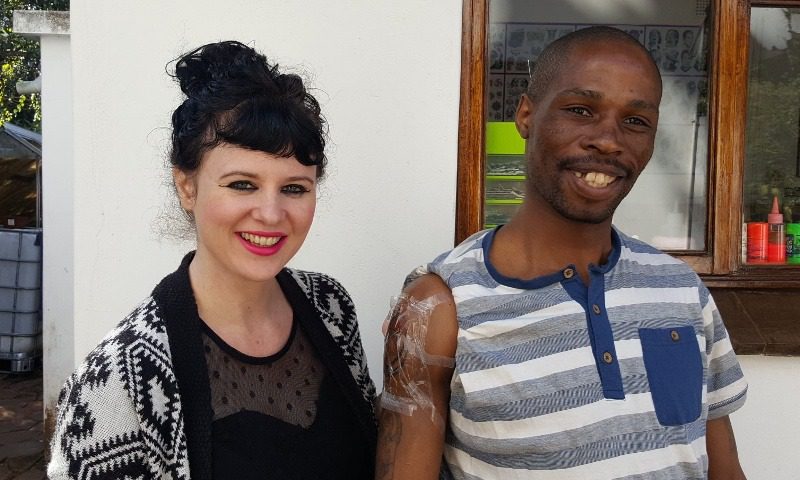 After the course this amazing artist went on to open her own tattoo studio called Bokkies Creations.
We have trained student that have opened studios all over South Africa, United Kingdom, Angola, Lesotho, Swaziland, Namibia and others. So whether you want to open your own business or just earn extra money or explore your creative side with a new art form our course is for you.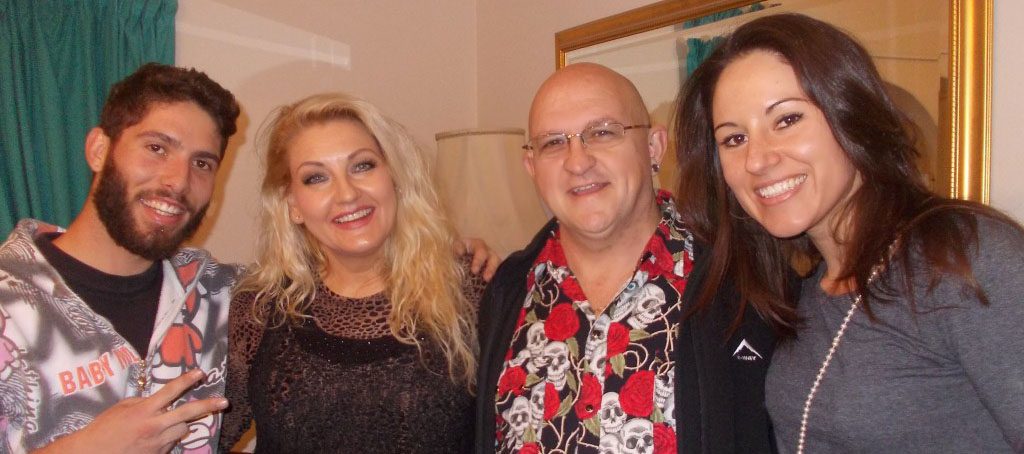 For 15 years we have been training Students who have opened their own businesses all over the world.
Our Course is not just how to tattoo but how to run a successful tattoo studio, others claim to do the same but we can assure you their is no other course like ours. Our Master tattoo Trainer is a legend in South Africa and has trained students from all over the world.

Our Unique 36 Step Training Program
We developed our own unique tattoo training courses from the necessity to train a young art student into a competent tattooer in the shortest amount of time. At that time the only available training method was a 3 year apprenticeship that involved thousands of hours just shop minding, cleaning and making coffee.
Also many tattoo artists and even the shop owners had learnt many bad habits and students are taught the wrong things.
We organised all the technical skills into a 36 modules of intense study, as tattooing is more than just having knowledge about how to do the tattoos but more importantly training the hands, eyes and feet to do the process smoothly and efficiently.
Once the technical aspects are understood and the practical aspects of being a technically proficient tattoo artist are mastered it is then time for the artistic element of the tattoo to be studied.
We have developed a 5 day training program that includes all these into an easy to learn program divided into 33 basic steps.

Thank you for visiting our website,
you can contact us via e-mail by clicking on the Link below.
Phone Us Now
or
Learn to tattoo from the professionals, we will improve your drawing skills, learn tattoo from our professional tattoo artists. Our Trainer has traveled extensively and will share the secrets of Tattooing with you.
Tattoo Training in East London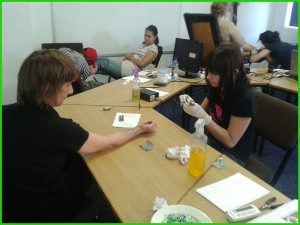 We Train in Tattoo Studios / Homes and Hotel Conference Facilities
The picture above are some students being trained in East London, It was one of the best facilities we have had from a hotel, our students tattooed many of the staff and they can't wait for us to come back again.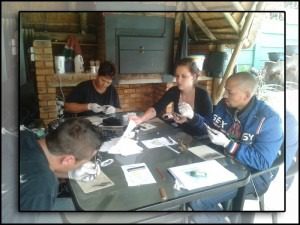 Tattoo Training Course in Edenglen, Johannesburg / Gauteng, South Africa – January 2014
Secret Weapon is in action : - next date is 2017-04-29 01:01:37 and the time now is 2017-04-29 00:52:36...
Breaking Internetional News: 2017-04-28 09:33:38
US President Donald Trump doesn't write off chance of 'major, major' conflict with North Korea

The man who's hoping to become France's next president says he's not assuming he has the win in the bag.

Merkel warns against UK 'illusions' over Brexit

German Chancellor Angela Merkel has warned Britain not to hold any "illusions" about what Brexit means for its future, adding that it "cannot and will not have the same rights as a member of the EU."

'I thought it would be easier'

President Donald Trump, reflecting on a first 100 days in office that has featured no major legislative wins and low approval ratings, said Thursday he thought the job would be easier.

Trump barks but struggles to find bite during first 100 days

UK police have foiled another suspected terror attack in London, arresting a man carrying knives near the British parliament.

Arkansas executes 4th inmate in a week

Arkansas executed its fourth inmate in a week late Thursday, ending a frantic schedule caused by the looming expiration of the state's supply of lethal injection drugs.

US Navy destroyer loses helicopter in mid-flight crash

A US destroyer rescued two pilots and a crewman Wednesday after their Navy helicopter crashed in the waters near Guam, according to the service.

Russian ship sinks in Black Sea after collision

Two Taiwanese hikers have been found after going missing in Nepal for almost seven weeks, but one had died three days before help arrived.

Arsenic-polluted water linked to cancer in India

Millions of people in Bihar, India, are showing symptoms of arsenic poisoning, which can be linked to cancer, due to consumption of contaminated drinking water.

Obama blamed for not properly vetting ex-Trump adviser

Former national security adviser Michael Flynn was warned by the Defense Intelligence Agency in 2014 against accepting foreign payments as he entered retirement, according to new documents obtained by the House oversight committee.

Spicer: We don't know if Flynn broke law

White House Press Secretary Sean Spicer responds to reports that President Trump's former national security adviser, Michael Flynn, failed to disclose payments from Russia.

Trump: South Korea should pay for $1B missile defense system

A man says he was ejected from a Delta Air Lines flight because he went to the bathroom while waiting for the plane to leave the Atlanta airport.

Some call it 'stealthing,' others call it sexual assault

Some people call it "stealthing" -- a practice where men secretly remove or damage condoms without their partners' knowledge. Others call it sexual assault.

China's all-girl boy band

Made up of all girls, this "boy band" is the latest in the androgyny trend in China.

Johnny Depp turns up at Disneyland as Jack Sparrow (and fans lose it)

Johnny Depp surprised fans at Disneyland, by popping up on the "Pirates of the Caribbean" ride in his full Capt. Jack Sparrow costume.

Venezuela official's son to father: 'Do what's right'

Yibram Saab sent a clear message to his father, Venezuela's human rights ombudsman: "Do what you are supposed to do."

Mom looked on in horror as baby killed on Facebook

Jiranuj Trairat could hear the sudden panic in her cousin's voice.

Toddler run over twice, then this happens

A toddler survives being run over twice in a row on a busy street in China.

Bollywood's 'original heartthrob' dies

Veteran Indian actor Vinod Khanna has died at the age of 70, according to CNN affiliate, News 18.

Angry nationalists storm Macedonian parliament

Violence broke out in Macedonia's Parliament on Thursday after an ethnic Albanian MP was elected speaker, sparking outrage from nationalists.

Mysterious whale die-off being investigated

The National Oceanic and Atmospheric Administration (NOAA) launched an investigation Thursday into a large number of humpback whale deaths from Maine to North Carolina.
Summary

Service Type
Provider Name
Skinart Tattoo Training Courses
Area
Capetown, Durban, Gauteng
Description
Skinart Tattoo Training provides specialised tattoo training to allow student to enter the tatttoo industry from a complete beginner.
URL