Welcome to Skinart Tattoo Training Courses – See
some of our students




Tattoo Training Courses – Introduction to Tattooing Video
SKINART Tattoo Training Courses
During our 5 day tattoo training courses we complete 3 or 4 practice tattoos on practice skins, here is an example of some of our students work. These were don in our Durban training center.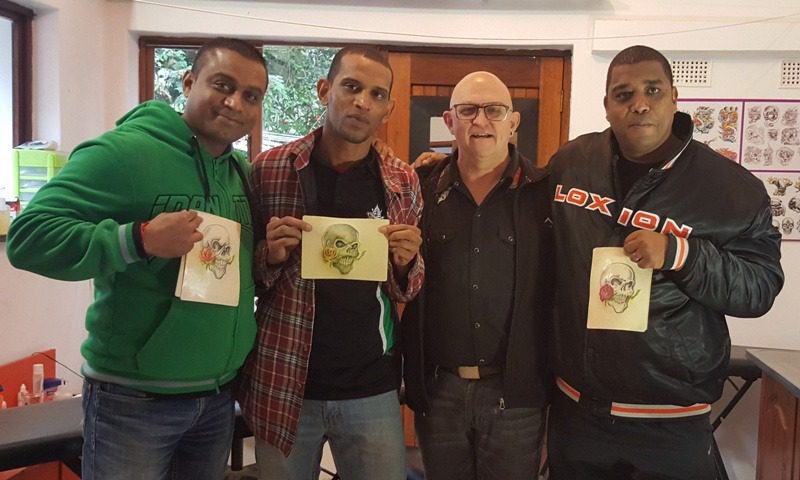 We provide you with 3 Certificates.
We offer a unique 36 step tattoo training program. For Full detail about our 5 day tattoo course
We are often asked how we can possibly provide a complete tattoo training course in just 5 days, well we have been doing it for 15 years, we have trained doctors, lawyers, nurses, renown artists, circus performers, jewelry designers, graphic designers, models, male strippers, computer salesmen, bikers, professional wrestlers and even famous comedians.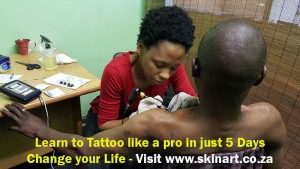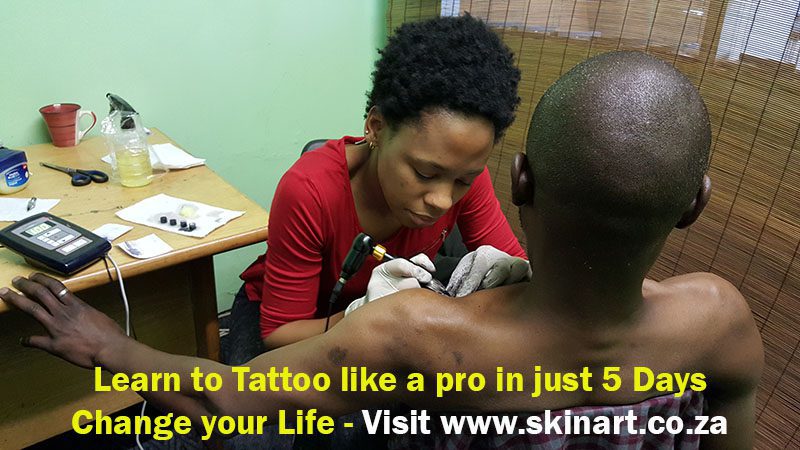 This student was being trained to use a HAWK tattoo machine on a customer in Benoni city centre. We have now moved to a new much more relaxed training venue.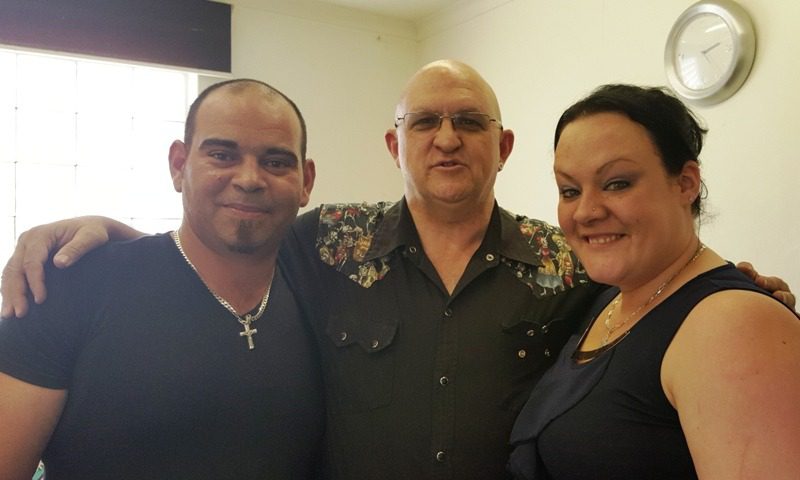 These Artist have since opened their own tattoo shop at the Hoedjiesbaai Hotel in Saldanha, western Cape. Well Done Guys!!!!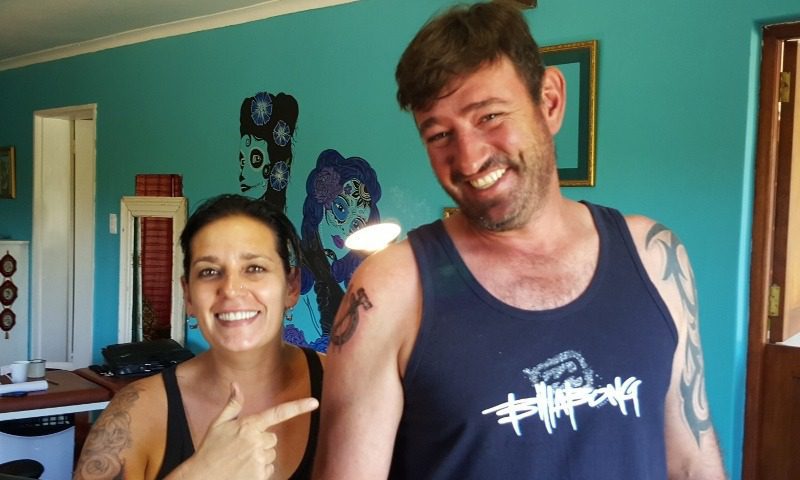 After our tattoo training course Tanya opened her own tattoo studio called the Tipsy Gypsy.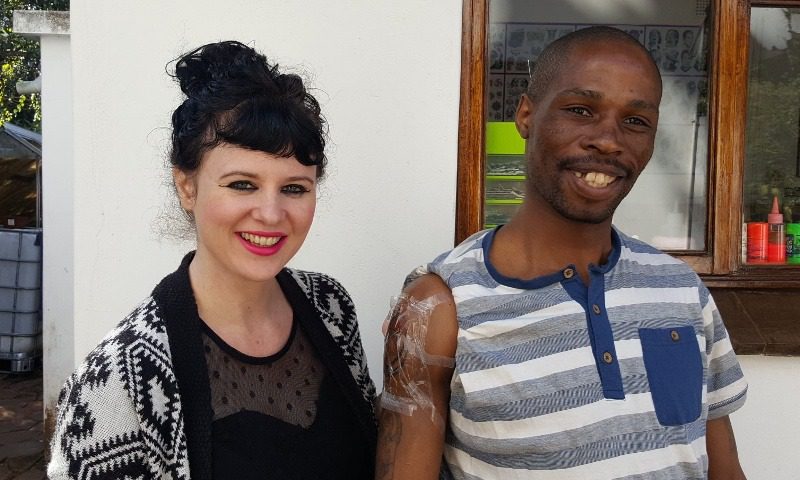 After the course this amazing artist went on to open her own tattoo studio called Bokkies Creations.
We have trained student that have opened studios all over South Africa, United Kingdom, Angola, Lesotho, Swaziland, Namibia and others. So whether you want to open your own business or just earn extra money or explore your creative side with a new art form our course is for you.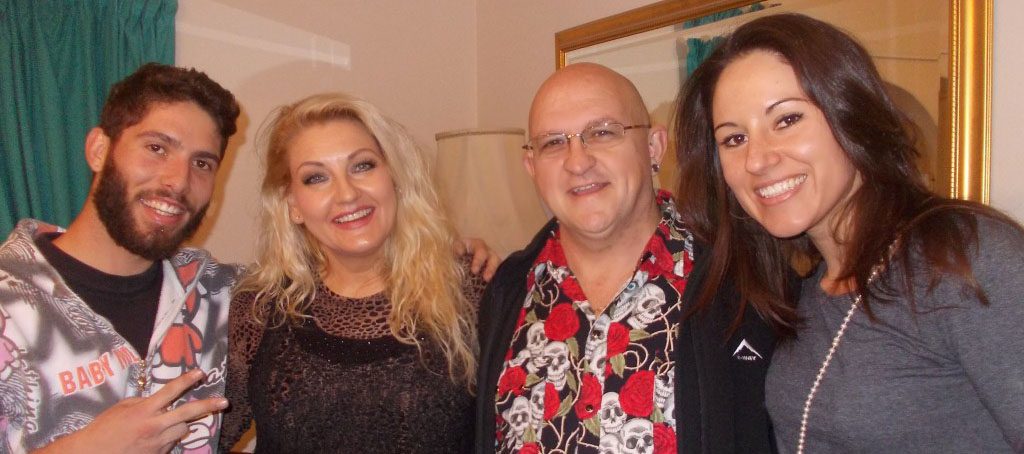 For 14 years we have been training Students who have opened their own businesses all over the world.
Our Course is not just how to tattoo but how to run a successful tattoo studio, others claim to do the same but we can assure you their is no other course like ours. Our Master tattoo Trainers is a legend in South Africa and has trained students from all over the world.

Our Unique 36 Step Training Program
We developed our own unique tattoo training courses from the necessity to train a young art student into a competent tattooer in the shortest amount of time. At that time the only available training method was a 3 year apprenticeship that involved thousands of hours just shop minding, cleaning and making coffee. Also many tattoo artists and even the shop owners had learnt many bad habits and students are taught the wrong things
We organised all the technical skills into a 36 modules of intense study, as tattooing is more than just having knowledge about how to do the tattoos but more importantly training the hands, eyes and feet to do the process smoothly and efficiently.
Once the technical aspects are understood and the practical aspects of being a technically proficient tattoo artist are mastered it is then time for the artistic element of the tattoo to be studied.
We have developed a 5 day training program that includes all these into an easy to learn program divided into 33 basic steps.

Thank you for visiting our website,
you can contact us via e-mail by clicking on the Link below.
Phone Us Now
or
Learn to tattoo from the professionals, we will improve your drawing skills, learn tattoo from our professional tattoo artists. Our Trainer has traveled extensively and will share the secrets of Tattooing with you.
Tattoo Training in East London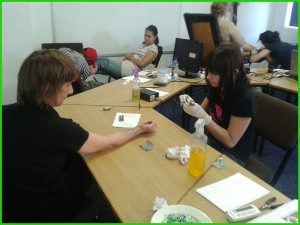 We Train in Tattoo Studios / Homes and Hotel Conference Facilities
The picture above are some students being trained in East London, It was one of the best facilities we have had from a hotel, our students tattooed many of the staff and they can't wait for us to come back again.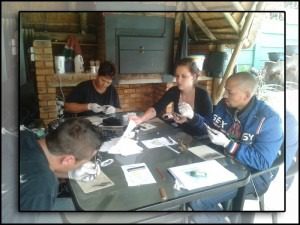 Tattoo Training Course in Edenglen, Johannesburg / Gauteng, South Africa – January 2014
Secret Weapon is in action : - next date is 2016-12-04 00:08:22 and the time now is 2016-12-03 23:44:21...
[addm2p url=""]
Summary
Service Type
Provider Name
Skinart Tattoo Training Courses
Area
Capetown, Durban, Gauteng
Description
Skinart Tattoo Training provides specialised tattoo training to allow student to enter the tatttoo industry from a complete beginner.
URL