Complete guide to Tattooing
3 Certificates and Comprehensive Training
Welcome to Skinart Tattoo Training Courses – See some of our students
We have been training tattoo artists for 16 years, during that time we have trained close too 300 artist and have helped student open more that 20 proper tattoo studios in shopping centers. Some of our students have won dozens of awards and we are proud that we started them on their amazing careers.
We offer the following , fully comprehensive courses:
Tattoo and piercing – 5 Days

Tattoo Only – 5 Days

Piercing Only – 1 Day

Permanent Make-up and Tattoo Only – 5 Days

Permanent Make-up , Tattoo and piercing course – 5 Days
We also offer additional modules









Tattoo Training Courses – Introduction to Tattooing Video
SKINART Tattoo Training Courses
During our 5 day tattoo training courses we complete 3 or 4 practice tattoos on practice skins, here is an example of some of our students work. These were done in our Durban training center.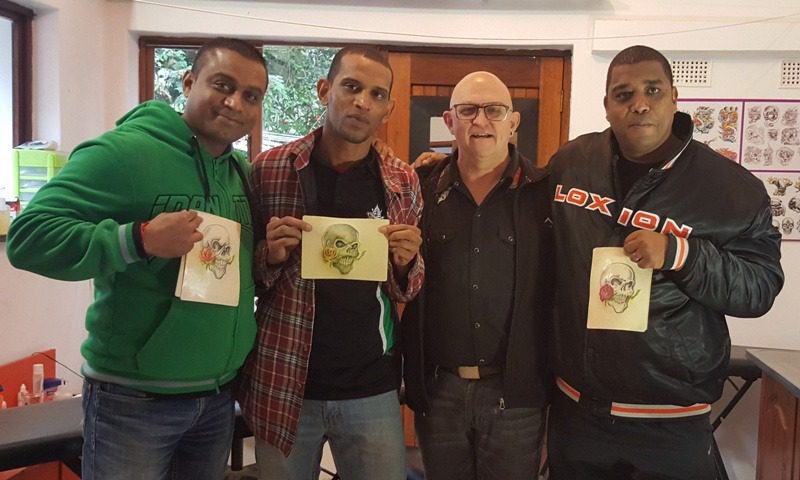 We provide you with 3 Certificates.
We offer a unique 36 step tattoo training program developed in our studios in South Africa.
For Full detail about our 5 day tattoo training course
We are often asked how we can possibly provide a complete tattoo training course in just 5 days, well we have been doing it for 15 years, we have trained doctors, lawyers, nurses, renown artists, circus performers, jewelry designers, graphic designers, models, male strippers, computer salesmen, bikers, professional wrestlers and even famous comedians.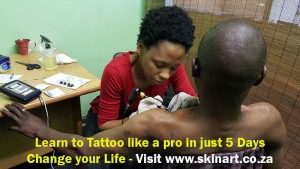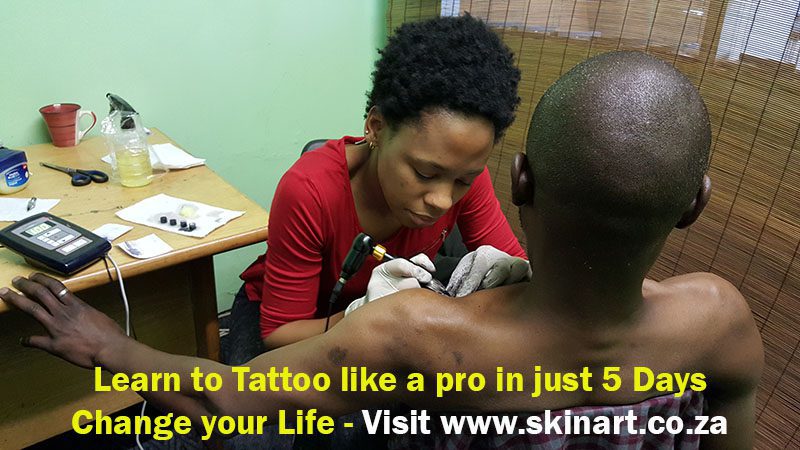 This student was being trained to use a HAWK tattoo machine on a customer in Benoni city center. We have now moved to a new much more relaxed training venue.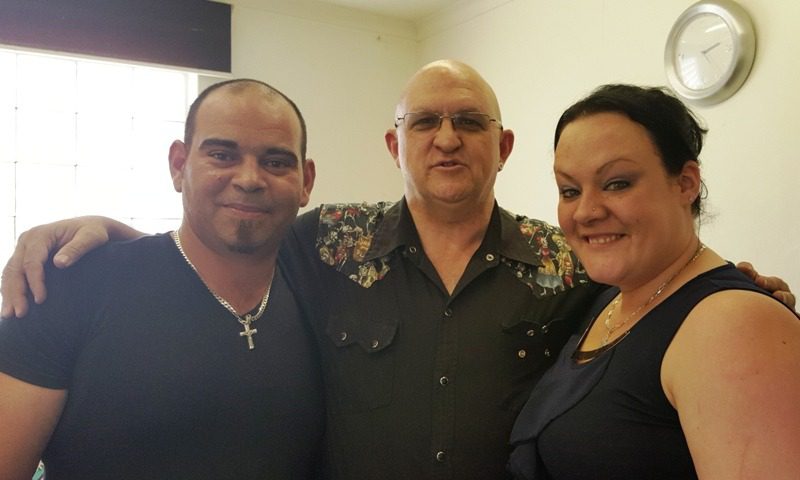 These Artist have since opened their own tattoo shop at the Hoedjiesbaai Hotel in Saldanha, western Cape. Well Done Guys!!!!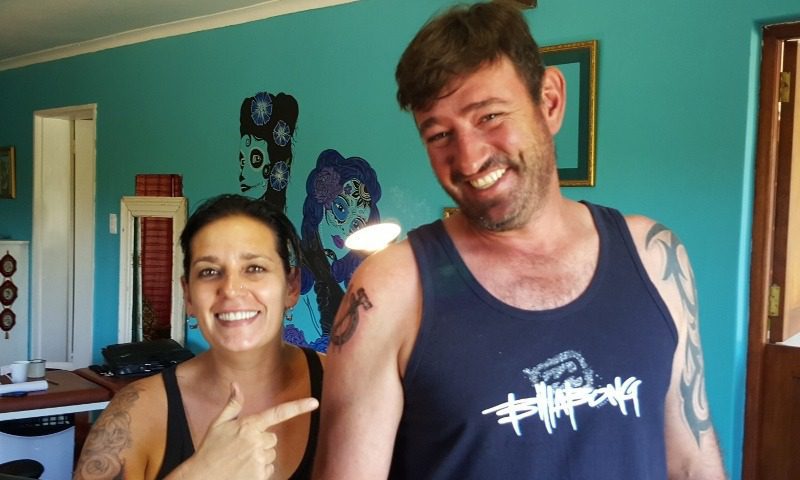 After our tattoo training course Tanya opened her own tattoo studio called the Tipsy Gypsy.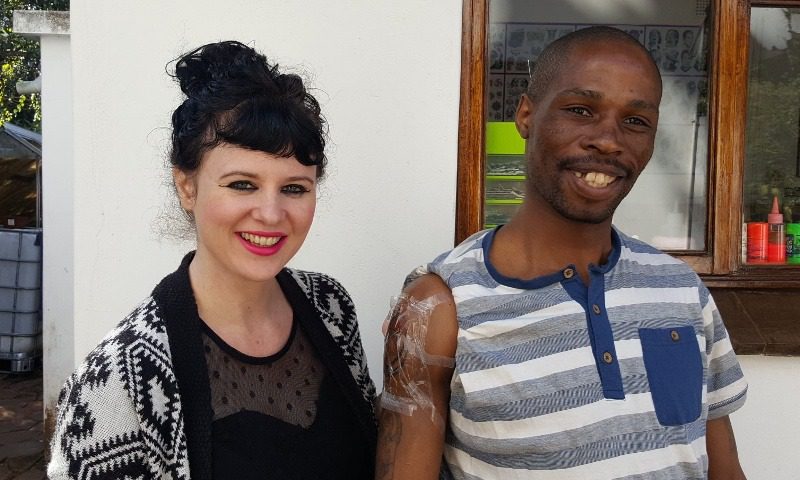 After the course this amazing artist went on to open her own tattoo studio called Bokkies Creations.
We have trained student that have opened studios all over South Africa, United Kingdom, Angola, Lesotho, Swaziland, Namibia and others. So whether you want to open your own business or just earn extra money or explore your creative side with a new art form our course is for you.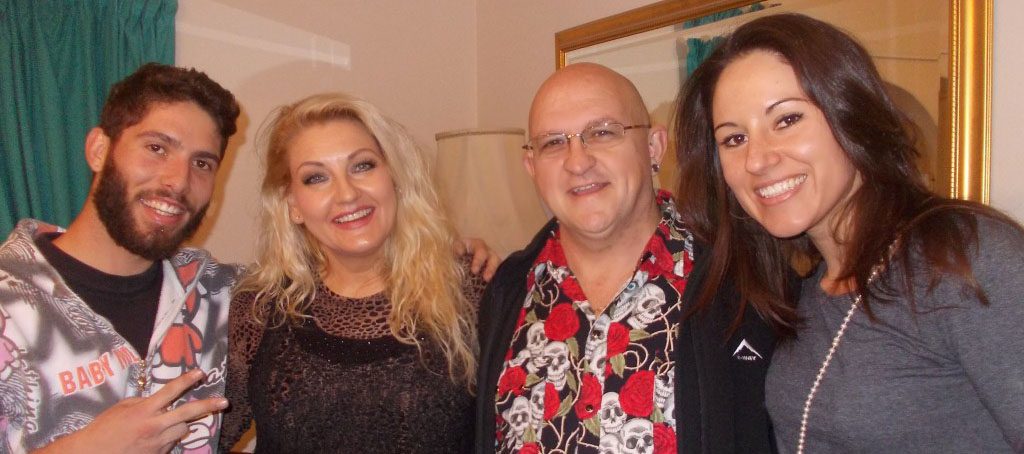 For 15 years we have been training Students who have opened their own businesses all over the world.
Our Course is not just how to tattoo but how to run a successful tattoo studio, others claim to do the same but we can assure you their is no other course like ours. Our Master tattoo Trainer is a legend in South Africa and has trained students from all over the world.

Our Unique 36 Step Training Program
We developed our own unique tattoo training courses from the necessity to train a young art student into a competent tattooer in the shortest amount of time. At that time the only available training method was a 3 year apprenticeship that involved thousands of hours just shop minding, cleaning and making coffee.
Also many tattoo artists and even the shop owners had learnt many bad habits and students are taught the wrong things.
We organised all the technical skills into a 36 modules of intense study, as tattooing is more than just having knowledge about how to do the tattoos but more importantly training the hands, eyes and feet to do the process smoothly and efficiently.
Once the technical aspects are understood and the practical aspects of being a technically proficient tattoo artist are mastered it is then time for the artistic element of the tattoo to be studied.
We have developed a 5 day training program that includes all these into an easy to learn program divided into 33 basic steps.

Thank you for visiting our website,
you can contact us via e-mail by clicking on the Link below.
Phone Us Now
or
Learn to tattoo from the professionals, we will improve your drawing skills, learn tattoo from our professional tattoo artists. Our Trainer has traveled extensively and will share the secrets of Tattooing with you.
Tattoo Training in East London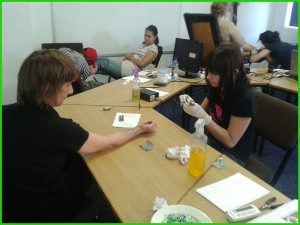 We Train in Tattoo Studios / Homes and Hotel Conference Facilities
The picture above are some students being trained in East London, It was one of the best facilities we have had from a hotel, our students tattooed many of the staff and they can't wait for us to come back again.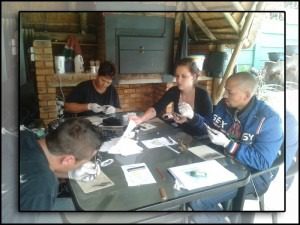 Tattoo Training Course in Edenglen, Johannesburg / Gauteng, South Africa – January 2014
Secret Weapon is in action : - next date is 2017-06-28 13:50:19 and the time now is 2017-06-28 13:42:35...
Breaking Internetional News: 2017-06-28 09:32:19
Attackers launch grenades and demand President resign after months of protests

CNN Tech's Samuel Burke walks you through the steps you can take to protect yourself from being hacked.

Chernobyl monitoring system hit by global cyber attack

The automatic radiation monitoring system at the Chernobyl nuclear power plant was hit by a cyberattack Tuesday and monitoring was being carried out manually, according to a Ukrainian federal agency.

FBI finds car missing Chinese scholar took

Security camera video showed the visiting Chinese scholar getting into a black Saturn Astra hatchback on the University of Illinois campus the afternoon of June 9.

Analysis: Trump's chance for signature win

Your turn, Mr. President.

China makes its military more visible in Hong Kong

For years after it took control of Hong Kong from Britain, China kept its military in the city on a low profile.

Brazil prosecutors charge President with corruption

Brazil once again has a president embroiled in scandal.

How one typo helped let Russian hackers in

The email that would help Democrats lose the 2016 presidential election arrived on March 19, 2016, signed -- seemingly harmlessly -- "Best, the Gmail team."

US health care vote delayed

Senate Majority Leader Mitch McConnell will delay the vote on the Republican leadership's health care bill until after the July 4 recess.

Why Iran's brightest young graduates leave their country behind

Sporting earbuds and sagging backpacks, students lounge on patches of grass, shaded by trees from the harsh sun. They sit in the library, hunched over laptops, massaging their temples, cramming for tests or bashing out lines of code.

US lists China as among worst human trafficking offenders

A new US State Department report lists China as among the worst offenders for human trafficking, joining countries including Russia, Syria and Iran on the lowest rung of the annual Trafficking in Persons (TIP) report.

More people have confidence in Putin than Trump -- Pew poll

Despite being one of China's most famous political dissidents, Liu Xiaobo has rarely struck those who know him as a firebrand.

CNN reporter to Spicer: 'Why don't you turn the cameras on?'

White House Press Secretary Sean Spicer avoided answering CNN correspondent Jim Acosta's question about why the cameras have been turned off during the White House press briefing.

Trial of accused leaker Reality Winner set for October

Among the possible evidence in the government's case against former federal contractor Reality Winner is a notebook with information handwritten in Farsi, prosecutors said in court Tuesday.

Court: Baby's life support can be withdrawn

The European Court of Human Rights ruled Tuesday a hospital can discontinue life support to a baby suffering from a rare genetic disease.

Sarah Palin sues New York Times for defamation

Bad weather, crowded skies and military drills...and now add coin-tossing to the growing list of reasons for China's notorious flight delays.

See in 360°: Visit Tibetan Buddhism's holiest place

A new Pew Research poll shows international confidence in the US is waning under President Trump.

Secret video shows ISIS losing chokehold on its 'capital'

Donald Trump has a new favorite target -- the guy who used to have his job.

How the UK's tower block crisis has spread

A vote on the introduction of same-sex marriage could be on the agenda in Germany after Chancellor Angela Merkel said Monday that she would like to see parliament move towards a "vote of conscience" on the issue.

The last thing America needs is a war

Late Monday night, the White House issued an ominous statement, warning about "potential preparations for a chemical weapons attack by the Assad regime" in Syria. If Assad conducts another chemical attack, the statement vowed, "he and his military will pay a heavy price."

Swimmer stranded in rapids

California Highway Patrol video captures a helicopter rescue of a swimmer stranded on a rock in the middle of a river.
Summary

Service Type
Provider Name
Skinart Tattoo Training Courses
,
Area
Capetown, Durban, Gauteng
Description
Skinart Tattoo Training provides specialised tattoo training to allow student to enter the tatttoo industry from a complete beginner.