Complete guide to Tattooing
3 Certificates and Comprehensive Training
Welcome to Skinart Tattoo Training Courses – See some of our students
We have been training tattoo artists for 16 years, during that time we have trained close too 300 artist and have helped student open more that 20 proper tattoo studios in shopping centers. Some of our students have won dozens of awards and we are proud that we started them on their amazing careers.
We offer the following , fully comprehensive courses:
Tattoo and piercing – 5 Days

Tattoo Only – 5 Days

Piercing Only – 1 Day

Permanent Make-up and Tattoo Only – 5 Days

Permanent Make-up , Tattoo and piercing course – 5 Days
We also offer additional modules









Tattoo Training Courses – Introduction to Tattooing Video
SKINART Tattoo Training Courses
During our 5 day tattoo training courses we complete 3 or 4 practice tattoos on practice skins, here is an example of some of our students work. These were done in our Durban training center.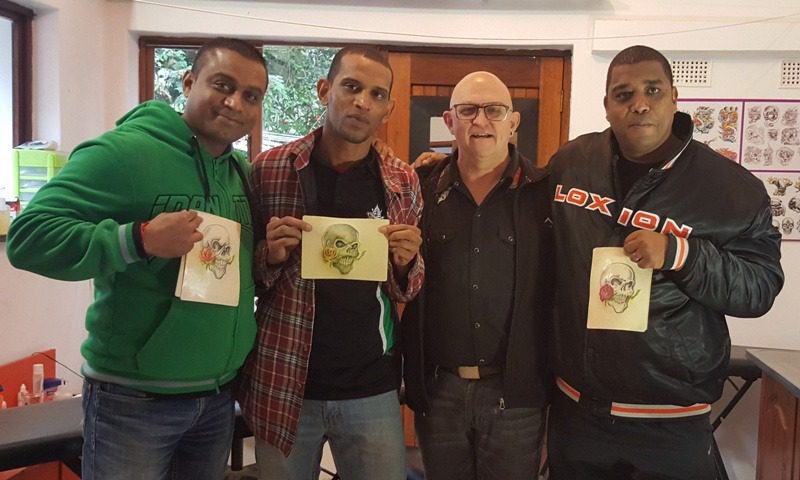 We provide you with 3 Certificates.
We offer a unique 36 step tattoo training program developed in our studios in South Africa.
For Full detail about our 5 day tattoo training course
We are often asked how we can possibly provide a complete tattoo training course in just 5 days, well we have been doing it for 15 years, we have trained doctors, lawyers, nurses, renown artists, circus performers, jewelry designers, graphic designers, models, male strippers, computer salesmen, bikers, professional wrestlers and even famous comedians.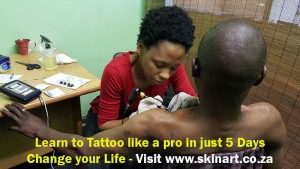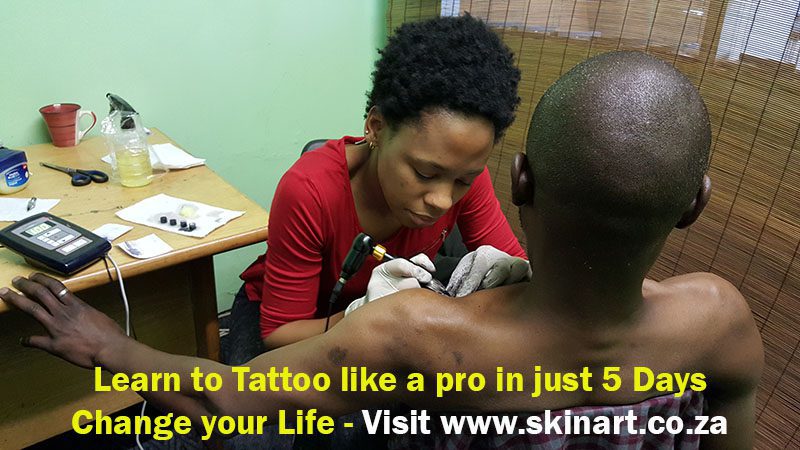 This student was being trained to use a HAWK tattoo machine on a customer in Benoni city center. We have now moved to a new much more relaxed training venue.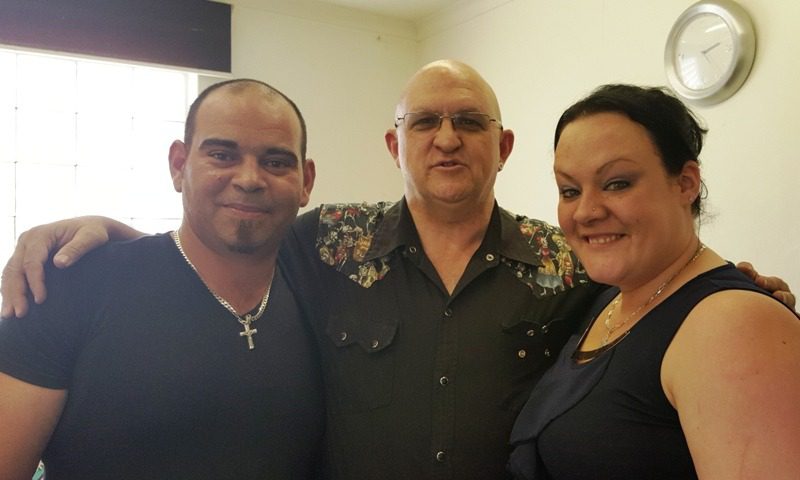 These Artist have since opened their own tattoo shop at the Hoedjiesbaai Hotel in Saldanha, western Cape. Well Done Guys!!!!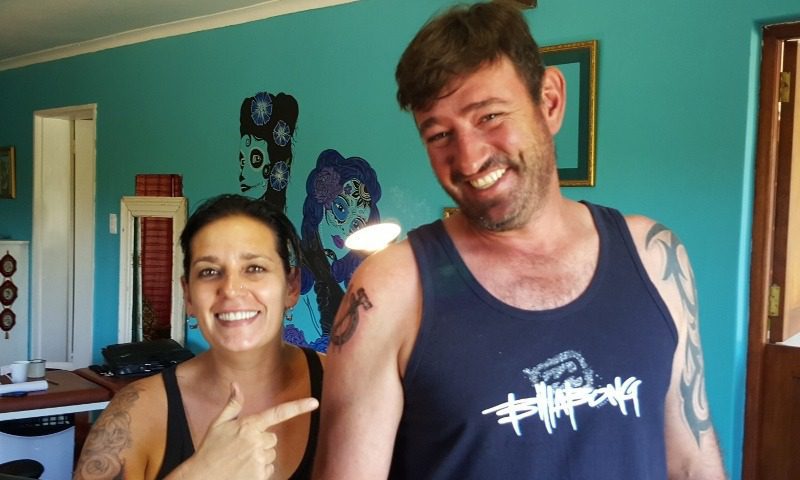 After our tattoo training course Tanya opened her own tattoo studio called the Tipsy Gypsy.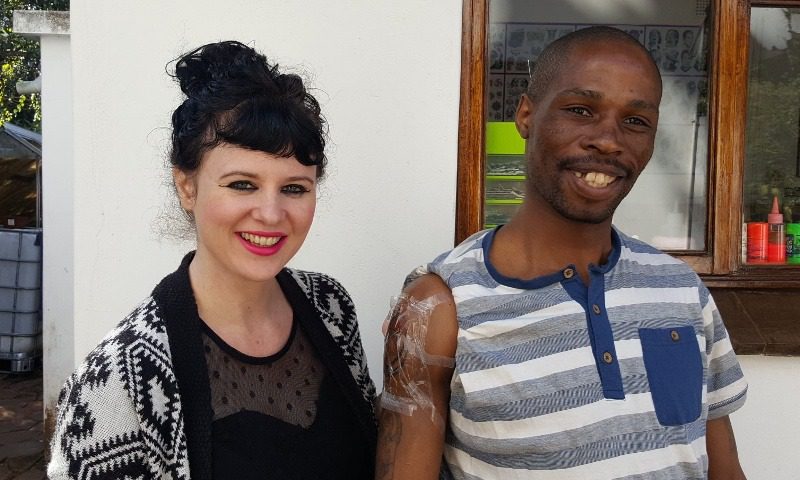 After the course this amazing artist went on to open her own tattoo studio called Bokkies Creations.
We have trained student that have opened studios all over South Africa, United Kingdom, Angola, Lesotho, Swaziland, Namibia and others. So whether you want to open your own business or just earn extra money or explore your creative side with a new art form our course is for you.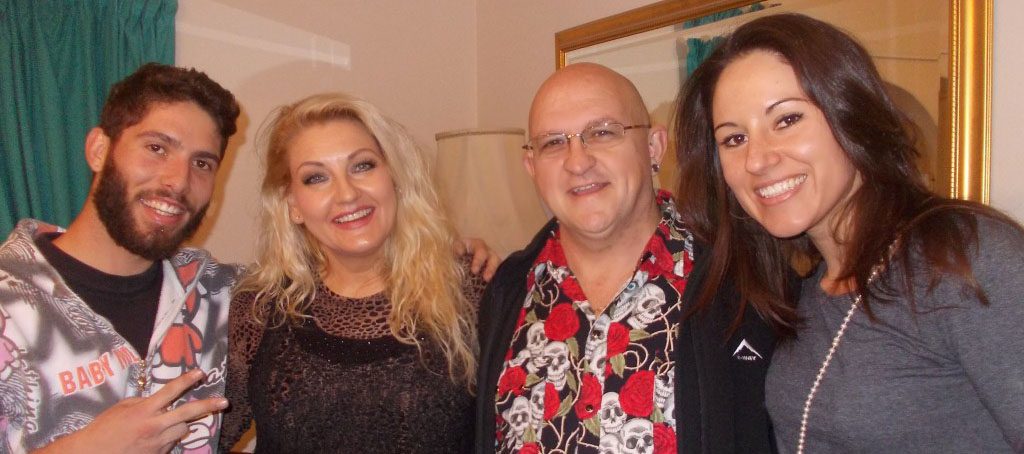 For 15 years we have been training Students who have opened their own businesses all over the world.
Our Course is not just how to tattoo but how to run a successful tattoo studio, others claim to do the same but we can assure you their is no other course like ours. Our Master tattoo Trainer is a legend in South Africa and has trained students from all over the world.

Our Unique 36 Step Training Program
We developed our own unique tattoo training courses from the necessity to train a young art student into a competent tattooer in the shortest amount of time. At that time the only available training method was a 3 year apprenticeship that involved thousands of hours just shop minding, cleaning and making coffee.
Also many tattoo artists and even the shop owners had learnt many bad habits and students are taught the wrong things.
We organised all the technical skills into a 36 modules of intense study, as tattooing is more than just having knowledge about how to do the tattoos but more importantly training the hands, eyes and feet to do the process smoothly and efficiently.
Once the technical aspects are understood and the practical aspects of being a technically proficient tattoo artist are mastered it is then time for the artistic element of the tattoo to be studied.
We have developed a 5 day training program that includes all these into an easy to learn program divided into 33 basic steps.

Thank you for visiting our website,
you can contact us via e-mail by clicking on the Link below.
Phone Us Now
or
Learn to tattoo from the professionals, we will improve your drawing skills, learn tattoo from our professional tattoo artists. Our Trainer has traveled extensively and will share the secrets of Tattooing with you.
Tattoo Training in East London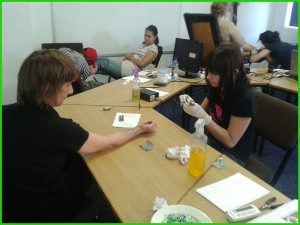 We Train in Tattoo Studios / Homes and Hotel Conference Facilities
The picture above are some students being trained in East London, It was one of the best facilities we have had from a hotel, our students tattooed many of the staff and they can't wait for us to come back again.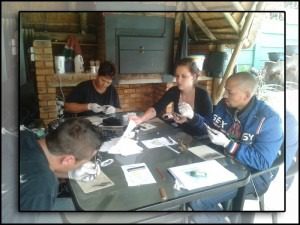 Tattoo Training Course in Edenglen, Johannesburg / Gauteng, South Africa – January 2014
Secret Weapon is in action : - next date is 2017-05-23 14:14:10 and the time now is 2017-05-23 14:40:54...- complete
Breaking Internetional News: 2017-05-23 09:33:47
22 dead after blast at Ariana Grande concert in UK

President Donald Trump called two top intelligence community figures to request that they deny in public any evidence of collusion between his campaign and the Russian government during the 2016 election, multiple current and former US officials with knowledge tell CNN.

Ousted South Korean president Park stands trial

Millions took to the streets to demand she step down. A top court ousted her from office. Now, Park Geun-hye, South Korea's former president, will appear in the dock -- the final chapter in a corruption scandal that led to her downfall.

Trump sets sight on the big deal: Mideast peace

President Donald Trump doesn't expect to emerge from his two-day visit to Israel and the West Bank with a peace deal in hand, but he is the latest president to arrive here with the lofty goal in mind.

Mueller briefed on secret Comey memos, source says

President Donald Trump's former national security adviser Michael Flynn won't provide records to the Senate intelligence committee and will invoke his Fifth Amendment rights in response to a subpoena from the committee, according to a source close to Flynn.

Duterte looks to strengthen ties with Moscow

Philippines President Rodrigo Duterte will depart on an official five-day visit to Moscow Monday, as part of an effort to realign his country's foreign policy away from longtime ally the United States.

Jakarta police raid gay sex party

A raid by police on a gym and sauna in the Indonesian capital Jakarta on Sunday evening is being seen by some as the latest evidence of a crackdown on the rights of the country's LGBT population.

Elephant crushes hunter after it's fatally shot

A big game hunter was crushed to death after an elephant, which his friends had fatally shot, collapsed on top of him.

'Clock boy' lawsuit tossed out by federal judge

A federal judge has thrown out a lawsuit filed after police detained a Muslim teen in Texas when officials at his school thought the clock that he had made was a bomb.

Nicky Hayden dies five days after cycling crash

Former MotoGP world champion Nicky Hayden has died five days after being involved in a cycling accident in Italy, according to Italy's ANSA news agency and Red Bull Honda, a sponsor of Hayden. He was 35.

Another set of remains found in raised Sewol ferry

Remains that appear to belong to a human were found in the wreckage of the Sewol ferry Monday, an official from South Korea's Ministry of Oceans and Fisheries told CNN.

The violent and explicit content Facebook allows

Authorities in Nepal have denied reports that the famed "Hillary Step" on Mount Everest has collapsed, despite a veteran climber saying he saw it first hand during an ascent last week.

Ring bought for $13 valued at $456K

A 26-carat diamond ring, bought for $13 at a garage sale in 1980s London, has been valued at $456,000 and is set to be sold this June in auction at Sotheby's, the British auction house.

Trump touches orb in Saudi, lights up internet

Saudi Arabia rolled out the red carpet for US President Donald Trump on his inaugural overseas trip, but a moment involving a glowing orb had observers scratching their heads.

Surf's up! 64-foot monster wave recorded in Southern Ocean

We're going to need a bigger boat -- a much bigger boat.

Melania Trump gets rave reviews ..

First lady Melania Trump's fashion choices got rave reviews in local Saudi Arabian press Sunday, despite forgoing the customary headscarf.

... but her outfits cause a stir

Melania Trump's outfits are getting praise for being "classy and conservative," but also garnering criticism for breaking the rules in Saudi Arabia.

Supermodel's secret passion

Supermodel Arizona Muse is a well-known figure in the fashion world -- having graced the covers of Vogue and i-D and fronted campaigns for Louis Vuitton and Chanel -- but she also has a surprising passion for design.

Locked out of China, K-pop stars head to the US

China's loss is America's gain.

Billboard Music Awards: Celine Dion performs 'Titanic' hit

Drake wins a record number of awards, while Cher and Celine Dion deliver nostalgic blasts at the 2017 Billboard Music Awards.

The world's tastiest rail journey

Dappled sunlight gleaming off its regal blue livery, Portugal's Presidential Train glides out of the medieval heart of Porto towards the Douro Valley on the start of a new addition to Europe's selection of luxury rail journeys -- a nine-hour gourmet excursion through one of the most beautiful wine regions.
Summary

Service Type
Provider Name
Skinart Tattoo Training Courses
Area
Capetown, Durban, Gauteng
Description
Skinart Tattoo Training provides specialised tattoo training to allow student to enter the tatttoo industry from a complete beginner.
URL