Complete guide to Tattooing
3 Certificates and Comprehensive Training
Welcome to Skinart Tattoo Training Courses – See some of our students
We have been training tattoo artists for 16 years, during that time we have trained close too 300 artist and have helped student open more that 20 proper tattoo studios in shopping centers. Some of our students have won dozens of awards and we are proud that we started them on their amazing careers.
We offer the following , fully comprehensive courses:
Tattoo and piercing – 5 Days

Tattoo Only – 5 Days

Piercing Only – 1 Day

Permanent Make-up and Tattoo Only – 5 Days

Permanent Make-up , Tattoo and piercing course – 5 Days
We also offer additional modules









Tattoo Training Courses – Introduction to Tattooing Video
SKINART Tattoo Training Courses
During our 5 day tattoo training courses we complete 3 or 4 practice tattoos on practice skins, here is an example of some of our students work. These were done in our Durban training center.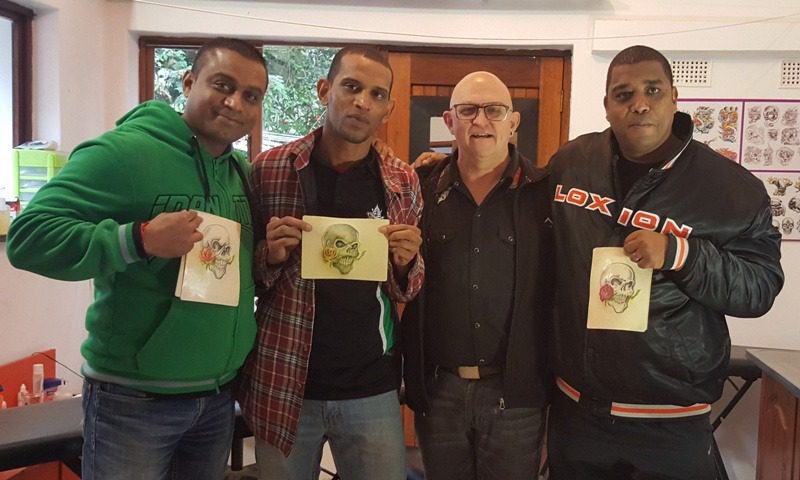 We provide you with 3 Certificates.
We offer a unique 36 step tattoo training program developed in our studios in South Africa.
For Full detail about our 5 day tattoo training course
We are often asked how we can possibly provide a complete tattoo training course in just 5 days, well we have been doing it for 15 years, we have trained doctors, lawyers, nurses, renown artists, circus performers, jewelry designers, graphic designers, models, male strippers, computer salesmen, bikers, professional wrestlers and even famous comedians.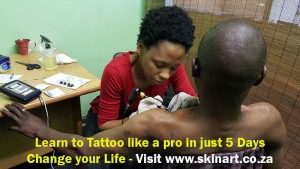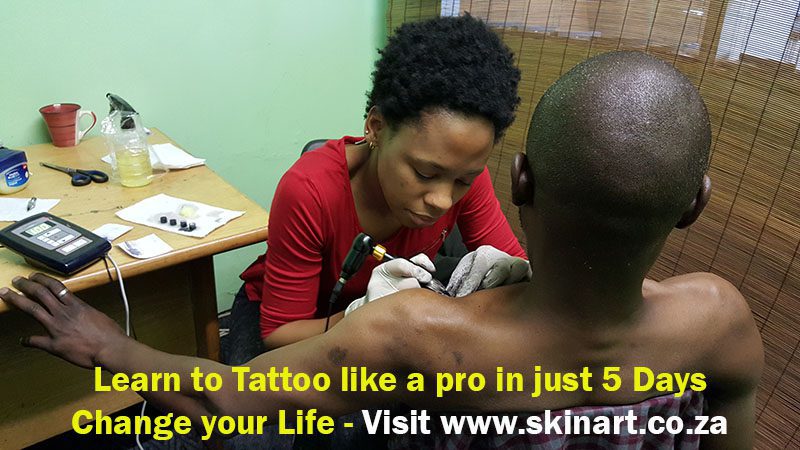 This student was being trained to use a HAWK tattoo machine on a customer in Benoni city center. We have now moved to a new much more relaxed training venue.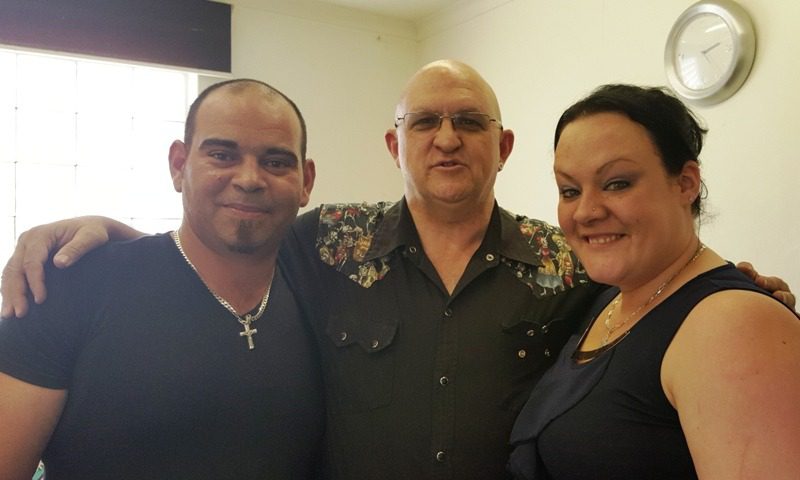 These Artist have since opened their own tattoo shop at the Hoedjiesbaai Hotel in Saldanha, western Cape. Well Done Guys!!!!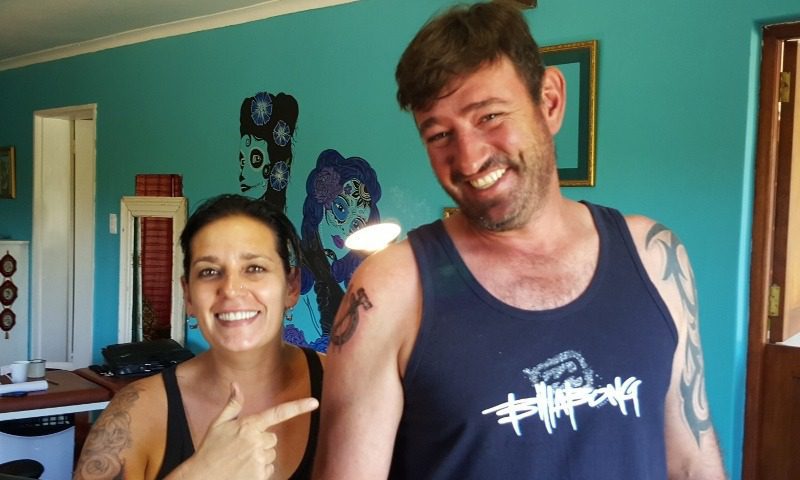 After our tattoo training course Tanya opened her own tattoo studio called the Tipsy Gypsy.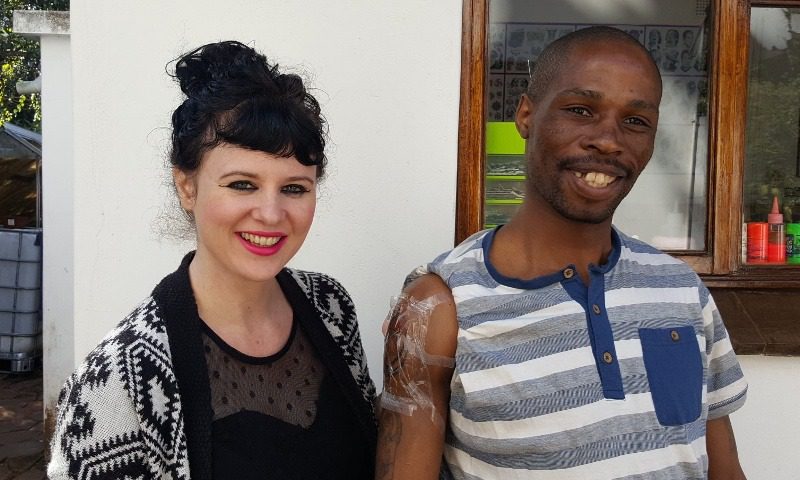 After the course this amazing artist went on to open her own tattoo studio called Bokkies Creations.
We have trained student that have opened studios all over South Africa, United Kingdom, Angola, Lesotho, Swaziland, Namibia and others. So whether you want to open your own business or just earn extra money or explore your creative side with a new art form our course is for you.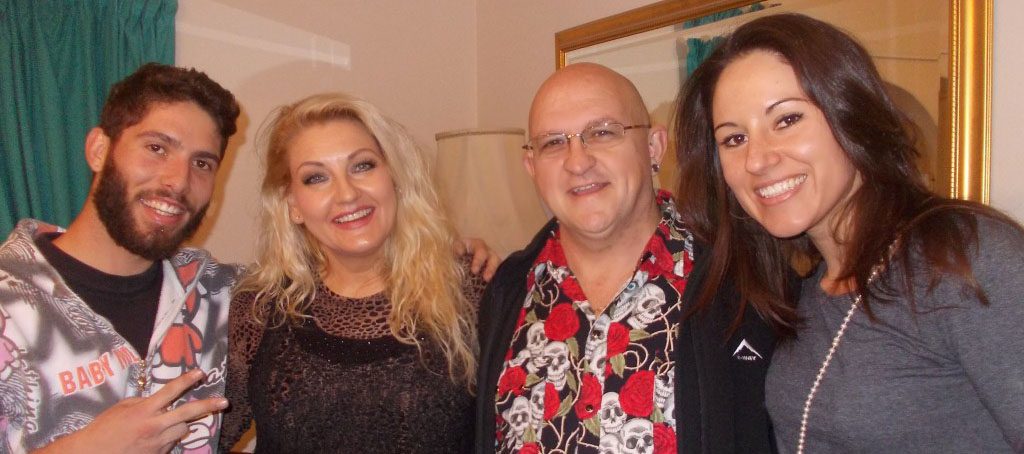 For 15 years we have been training Students who have opened their own businesses all over the world.
Our Course is not just how to tattoo but how to run a successful tattoo studio, others claim to do the same but we can assure you their is no other course like ours. Our Master tattoo Trainer is a legend in South Africa and has trained students from all over the world.

Our Unique 36 Step Training Program
We developed our own unique tattoo training courses from the necessity to train a young art student into a competent tattooer in the shortest amount of time. At that time the only available training method was a 3 year apprenticeship that involved thousands of hours just shop minding, cleaning and making coffee.
Also many tattoo artists and even the shop owners had learnt many bad habits and students are taught the wrong things.
We organised all the technical skills into a 36 modules of intense study, as tattooing is more than just having knowledge about how to do the tattoos but more importantly training the hands, eyes and feet to do the process smoothly and efficiently.
Once the technical aspects are understood and the practical aspects of being a technically proficient tattoo artist are mastered it is then time for the artistic element of the tattoo to be studied.
We have developed a 5 day training program that includes all these into an easy to learn program divided into 33 basic steps.

Thank you for visiting our website,
you can contact us via e-mail by clicking on the Link below.
Phone Us Now
or
Learn to tattoo from the professionals, we will improve your drawing skills, learn tattoo from our professional tattoo artists. Our Trainer has traveled extensively and will share the secrets of Tattooing with you.
Tattoo Training in East London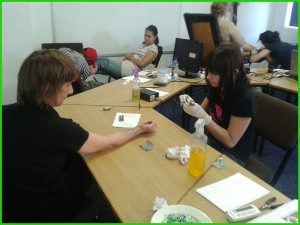 We Train in Tattoo Studios / Homes and Hotel Conference Facilities
The picture above are some students being trained in East London, It was one of the best facilities we have had from a hotel, our students tattooed many of the staff and they can't wait for us to come back again.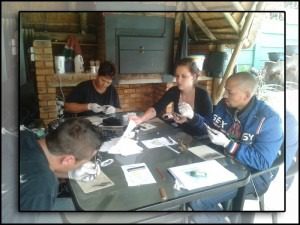 Tattoo Training Course in Edenglen, Johannesburg / Gauteng, South Africa – January 2014
Secret Weapon is in action : - next date is 2017-02-26 00:45:46 and the time now is 2017-02-26 00:15:57...
Breaking Internetional News: 2017-02-25 09:33:53
CNN, NYT, others barred from White House news briefing

CNN and other news organizations were blocked Friday from a White House press briefing.

CNN correspondent describes what happened

The White House handpicked news organizations, beyond the pool, to attend Friday's press briefing with Sean Spicer. CNN was not allowed to attend, while other networks were permitted.

Tapper: Excluding the press is un-American

CNN's Jake Tapper discusses how CNN and other news outlets were blocked from an off-camera White House press briefing, raising alarm among media organizations and First Amendment watchdogs.

They helped Snowden, now they live in fear

Three asylum seeker families who sheltered US whistleblower Edward Snowden in 2013 say they are living in fear because of reports that Sri Lankan police officials have been in Hong Kong trying to search for them.

Kim killing: Airport 'clear of nerve agent'

No one at a Malaysian airport has gotten sick from exposure to VX nerve agent, which police say was used in the killing of Kim Jong Nam, the estranged half-brother of North Korea's dictator Kim Jong Un, airport officials said Saturday.

Opinion: North Korea, what now?

Malaysia has announced that Kim Jong Nam was killed by VX -- a powerful nerve agent, a small drop of which can kill in minutes.

ISIS 'trapped': Military base retaken

On a street corner in Pretoria, South Africans gather just meters from the immigrants they're marching against.

Dolly the sheep: Clone fears remain

On February 22, 1997, the world learned about a secret project that scientists at the Roslin Institute in Scotland had been working on.

Barack Obama for president - of France?

Could France elect Barack Obama president? Not really -- but that's not stopping the organizers of Obama17, a guerrilla campaign trying to entice the former U.S. president to head to Paris.

Car bomb kills dozens in Syria

A car bomb in northern Syria killed as many as 60 people and wounded dozens more, Turkish state media and activist groups said Friday, even as the Turkish military said that the nearby town of al-Bab had been retaken from ISIS.

China or bust: Rooney's career dilemma

Money and success -- a potent combination which lures and seduces. No matter how much is in the bank or how many medals are in the trophy cabinet, the more you have, the more you want.

Historic Oscar moment you shouldn't miss

One of the best moments during the 89th Academy Awards may fly under the radar for the millions of viewers expected to tune into the Oscar telecast Sunday night -- which is a shame.

The weird way Oscar votes are counted

Every year the debates rage on: Why did that movie or actor win an Oscar? But there is a method to the awards show madness.

Lipstick Under My Burkha: Outrage over movie ban

India's decision to ban a film from movie theaters that examines the lives of four women living in a small town has unleashed outrage.

President creates VP job, appoints wife

The position of vice president didn't exist in Azerbaijan's constitution. If something were to happen to the President, the power would shift to the Prime Minister.

Support for Obamacare at all-time high

Support for Obamacare is at an all-time high according to two surveys released this week, as Republican leaders continue to press the case for repeal amid fierce resistance at town halls from the public.

France: Police probe 'anti-Semitic assault'

Police in France are investigating a possible anti-Semitic attack on two Jewish men, during which one man's finger was reportedly sawn off.

Hamilton: Car 'beats the crap out of you'

Ten years competing in one of the world's most demanding sports has done nothing to dampen Lewis Hamilton's will to win.

Why her face is so unsettling

My first encounter at "Robots," a new exhibition at the Science Museum in London, was with an animatronic baby. It is unquestionably life-like and perfectly baby-sized, safety-pinned into a crisp white nappy and hanging upright on a wall.

Controversial Chinese artist dead at 29

When you look at the photographs, the first thing you notice are the naked, pale, Chinese youths -- wearing nothing but blasé expressions.
Summary

Service Type
Provider Name
Skinart Tattoo Training Courses
Area
Capetown, Durban, Gauteng
Description
Skinart Tattoo Training provides specialised tattoo training to allow student to enter the tatttoo industry from a complete beginner.
URL